The former Swedish champion Pawel Korpulinski had a success in the fifth round of Drift Masters at Ferropolis, where he finished third....
It was at last time for James Deane to climb the top spot of the podium in this years Drift Masters European...
James Deane showed the spectators and the other competition, that he is in full form again after his problems in Riga, he...
It is said that it is not always good to meet your heroes. Sometimes you have painted a picture in your mind, which might...
Formula drift Seattle is over, this round was at Monroe Speedway. Visitors and audience on the livestream got to see alot of...
Qualify for round 5 of Formula Drift was done on Friday at Monroe Speedway in Washington. It was an eventful run for...
After a really exciting race with many one more times and a few crashed cars, there was a winner that hadn't been...
JTP, Justin Pawlak is your top qualifier at the Wall in New Jersey, after a perfect run scoring 100 points.
Gatebil Drift Series will have its first female participant this year, as Finnish Krisse Alto will start....
Drivers are now releasing info on which series they will participate in next season. One of those drivers are Jocke Andersson, winner...
We made a phonecall to Jim Olofsson to get the summary of his first year as a full-time pro-drifter, competing in three...
Ørjan Nilsen became champion in the 2018 Gatebil Drift Series. After an exciting ending at Mantorp Park,...
David Egan, the charismatic manager for Drift Games, announced today that his team will no longer be a part of Irish competetive...
With an all Shanahan final Conor Shanahan claimed the top spot of the podium at DGX round 3.
Third round of Finnish drifting championship was driven last weekend at Botniaring. Last Saturday...
Last weekend it was time for Drift Games Nationals, round 3. This time the competition took place at Eikon Centre in Ireland....
The starting list of the FIA Intercontinental Drifting Cup has been revealed today.
On November 1-3 the new FIA Motorsport Games will be held at Vallelunga, near Rome in Italy. Among other diciplines a drifting...
Darren Kelly managed to win the final round of the D1NZ championship and secured the 2019 championship.
After an exciting bracket at the high speed track in Pukekohe Park Raceway Fanga Dan Woolhouse got to climb the top of...
Kim Mathiesen is a 32 years old drifter from Jylland in Denmark. He started drifting back in 2012, but he only drove...
David Kalas came to Scandinavia to judge in both Gatebil Drift Series and Swedish Drift Championship this season.
William Guldager is a 25 year old drifter from Denmark who started drifting when he was 21 years old. It has been...
The car is a Nissan 200sx S13. I build the car from scratch more or less in 2017. It took around 6...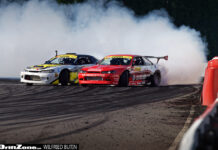 On November 1-3 the new FIA Motorsport Games will be held at Vallelunga, near Rome in Italy. Among other diciplines a drifting...