In 2018 when Drift Masters went from a series with mostly Polish drivers to a full European championship the young Adam Zalewski was reigning champion.
After some car problems early in the season Adam finished strong and managed to finish second in the championship. After the season ended, we heard that Adam was building a new racecar and wanted him to tell us a bit more about that, about the 2018 season and of course about this year.
You were the reigning champion from Drift Masters GP going into Drift Masters European Championship. What are your thoughts on the difference between 2017 and 2018?
-Differences between 2017 and 2018 is very big, we got a lot of new drivers coming from all over the world to Drift Masters European Championship, the level went up everyone were driving like a crazy, it's big pleasure for me to drive with the best drivers.

After a really strong end of the season you finished second behind James Deane. Tell us a little bit about your season.
-First round in Płock went pretty bad, we had big problems with driveshafts. I broke 8 in one day, didn't manage to qualify to top32.
Second round went pretty good but I lost with James Deane in top8, it was Hungary I was driving there for the first time and the track was crazy.
Third round in Riga that's the fast technical track that I don't really like, small mistake and you're off the track. I managed to pick up 4 place in competition it was crazy for me to drive there, but much fun.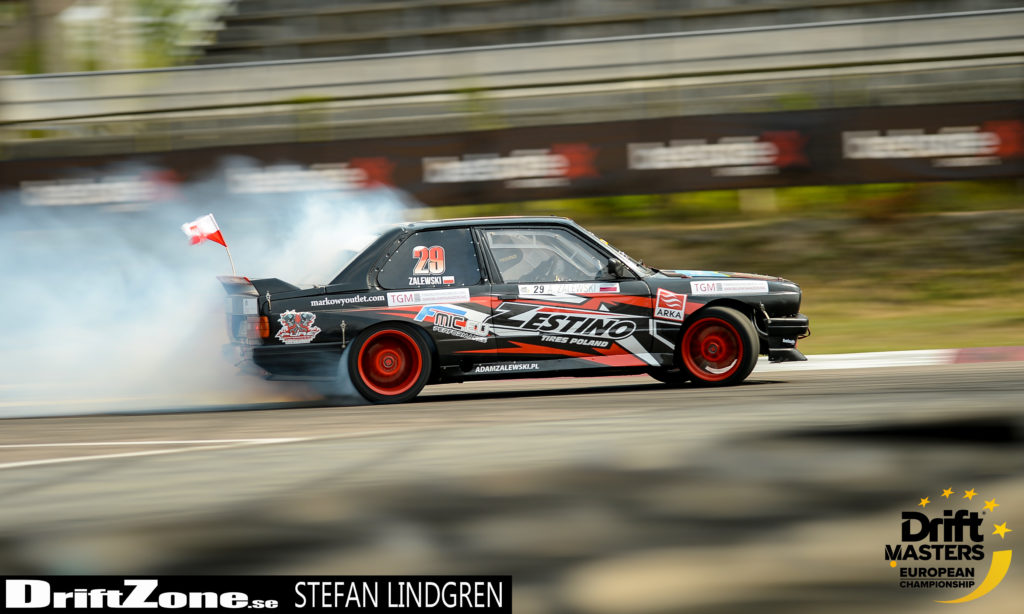 In Toruń we managed to make maybe 5 runs before top 32 because there ware a lot of drivers and not a lot of time for practice. In top 8 I lost with Borkowski after my tire was without pressure and I made decision to go and risk, well it didn't end good and I crashed into barrier (made from tires) pretty soft crash but I eliminated me from competition.
Fifth round at Hockenheim, didn't feel really good in this track at all, car seemed to work good and it got me into final with James Deane where I had one more time, but my subframe broke and I couldn't make OMT with him.
The final in Ireland, longest trip from all locations from the series. Crazy track I think it's the most fun to drive from all circuits, first corner unseeable, so you don't know where you will land after first corner, needs a lot of skill to drive there. Managed to pickup 2nd place after the final with better James Deane.
We can see that you have a new project now and that the E30 is for sale. What is the new project?
-My new car for this season is Toyota GT86 with 2JZ, sequential qualife gearbox inside.
How far along is the project? Will it be finished in time?
-Mechanics work really hard to put it in time, we expect it to end in April maybe faster.
There are three new venues on the DMEC 2019 calendar. Your thoughts on these three? Greinbach, Austria, Croix-en-ternois, France and Ferropolis, Germany
-For sure it will be fun to drive on new locations some fresh emotions coming up this season!
Which drivers to you see as your main opponents to beat for the championship title in 2019?
-James Deane is the most talented and skilled driver and mainly I'd like to fight him in this season.
You got a FD Pro license after finishing in the top in 2018. Any plans on joining Piotr Wiecek over there?
-Time will show, for now we're looking for sponsors in Europe. It's my dream to join Piotr in FD
We are sure that if Adam Zalewski gets his new car together without major problems, he will be a driver that can challenge for the championship!
Text: Christer Hägglund – DriftZone.se
Photo: Stefan Lindgren, Christer Hägglund – DriftZone.se