Some varied weather today, but the sun shined good when it was time for the final at PS Racing Center in Greinbach, Austria. But we and the spectators got great value this day, Drift Master European Championship gave us a smooth and well planned event.
Our day started with checking out the training session, and alot of drivers took the oppertunity to push hard in twin. The layout of the track was hard so the importance of getting laps done before competition was crucial, and we got some good sense of wich drivers that had found good speed and good lines.
Now when we kicked off the battles in top 32, we saw nearly all drivers that qualified good also won their battles beside Calin Ciortan won against Max Heindrich, Daniel "Brandy" Brandner got a bye run after misfortune when Juha Pöytälaakso blew his engine at the end of practice. Pawel Karkosic won over Alois Pamper who qualified fourth.

After a good presentation of top 16, it was time to get the battles going. We will go thrue some of the battles in top 16 and first up was Duane McKeever against Jack Shanahan, it was a good battle where Duane won after a spinout in Jack Shanahans chaserun, another notable battle was between Juha Rintanen and Calin Ciortan where the judges wanted a One More Time. Juha won after a close battle.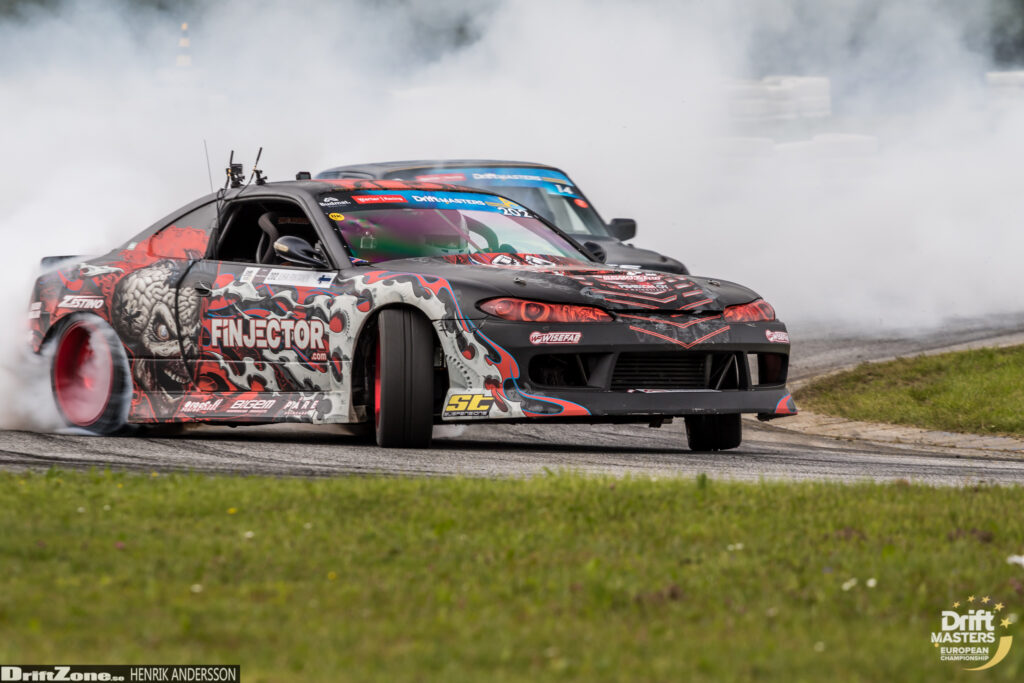 Tor Arne Kvia was set to battle with Martin Richards in his Driftworks Skyline, but Martin had the misfortune of ripping his tire of the rim during his chase run, so Tor Arne Kvia went on to great 8.
Now we went on to great 8 – and now we saw tight and hard battles, but at the end we had James Deane, Duane McKeever, Adam Zalewski and Benediktas Cirba in final four.
First out was Duane McKeever against Benediktas Cirba, this battle was hard and the judges wanted a one more time. After the OMT it was clear that McKeever won over Cirba, so Duane was ready for the final.
James Deane was up against Adam Zalewski a battle that James won, but it was not an easy win. Adam drove hard and good, so by now we had Cirba against Zalewski in battle for third. And in the final we had two Irish drivers, James Deane and Duane McKeever. It was a good battle were both driver fought hard.
After this fierce battle, we all went down to the main stand. There we got the news infront of the crowd, winner of Round 1 was Duane McKeever, second place went to James Deane, third place went to Adam Zalewski and fourth was Benediktas Cirba.
Places fifth to seventeen was Tor Arne Kvia, Eli Hountondji, Juha Rintanen, Marco Zakorill, Jack Shanahan, Joe Hondtondji, Pawel Korpulinski, Sebastian Fontijn, Martin Richards, Calin Ciortan, Daniel Brandy Brandtner, Pawel Karkosik.
We want to send a big thank you to Drift Masters European Championship, their crew and PS Racing Center, for a well executed season starter, we will continue to follow the rest of the season closely.
Who will take the title? there are a number of names viable for the title, next round is in France 14-15 june.
Text & Photos: Henrik Andersson, Driftzone