The Polish drivers came to dominate the entire show when Drift Masters European Championship returned to Plock and the football stadium. All three drivers on the podium were from Poland.
The track was as demanding as it was last year, and it claimed its victims. A few drivers qualified not as high that they would have expected or wanted, like the Finn Juha Rintanen in 26th and Conor Shanahan in 12th.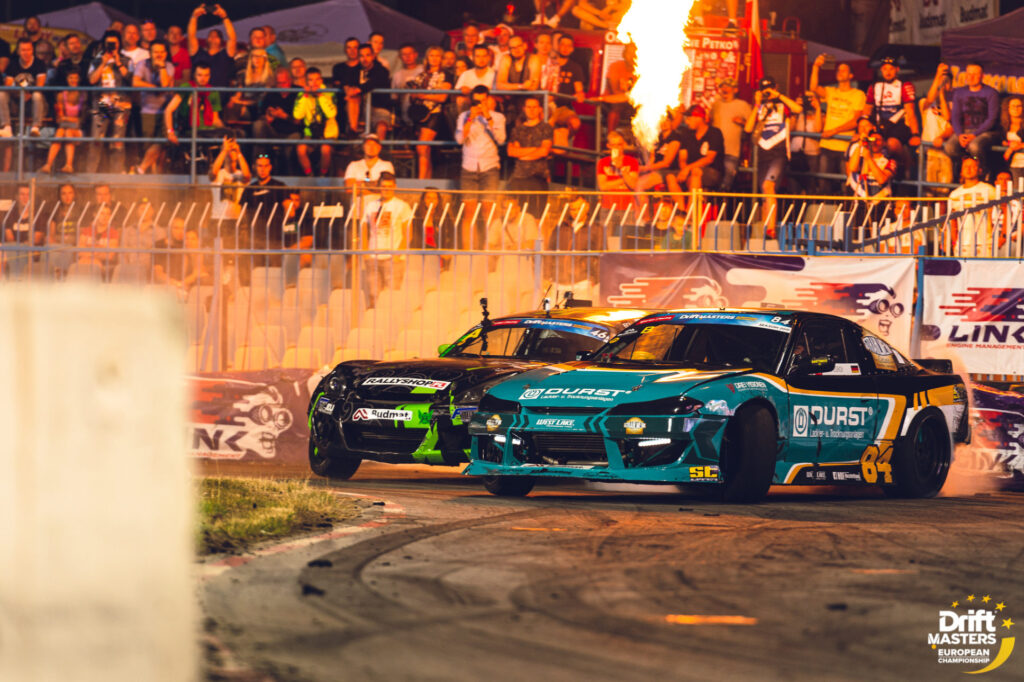 But it is in the bracket that it is settled, if you get in there anything can happen. And it did. Adam Zalewski, championship contender this year was knocked out in top 32 in round 2, and yet again here in Plock. This time by Polish wildcard Pawel Trela. Not what Zalewski wanted, and that may have sealed is chances for a high position in the end of the year. Pawel Korpulinski was also knocked out in top 32, by Dawid Karkosik, aswell as Andrius Vasiliauskas by Conor Shanahan.
Pawel Trela came to play a leading role also in top 16, where he knocked out series leader Duane McKeever, up until Plock undefeated in this years DMEC. His worst contender, world champion James Deane, got in to top 8, but there it came to a halt for the merited Irish driver. This after a crazt battle with another of the Polish wildcards, Pawel Borkowski. The judges saw almos no errors at all in the two runs, and the drivers had to go One more time. That battle was as crazy and it was hard to find a winner, but in the end it was Borkowski that got the win and was on to the semi finals. The Norwegian Tor Arne Kvia, third here in Plock in 2018, made to top 8, but when i battled Grzegorz Hypki his gearbox broke and he was out.
In the semi finals there were the German Max Heidrich against the Poles, Piotr Wiecek in his battle and Pawel Borkowski vs Grzegorz Hypki in the other. Wiecek beat Heidrich and was in the final, and Borkowski pushed Hypki to some mistakes and was also in the final.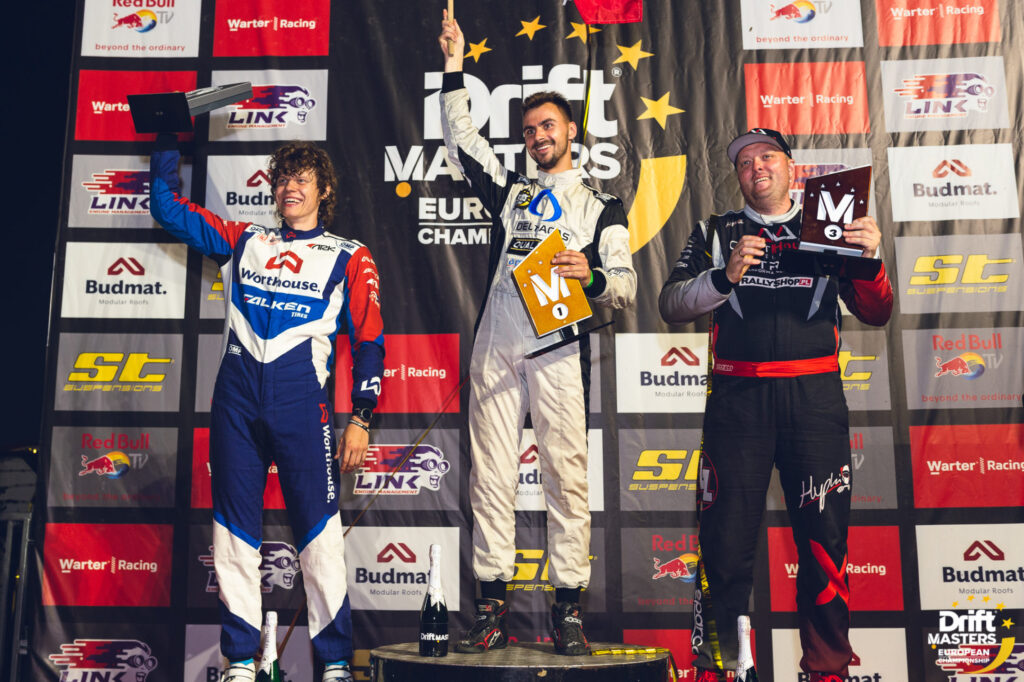 It was an epic final between Piotr Wiecek and Pawel Borkowski, with a crazy crowd cheering their local drivers. After the run it was revealed that it was Pawel Borkowski that won, and Piotr Wiecek third. Last man to hit the podium was Grzegorz Hypki in third place, leaving Max Heidrich in fourth. A big success for the German driver.
When both first and second place are filled by wild cards, it makes you wonder if Drift Masters picked the right Polish drivers for this season.
Next exciting round of Drift Masters European Championship is in Riga, Latvia, at Bikernieku Trase.
Text: Christer Hägglund – DriftZone.se
Photos: Jordan Butters – Drift Masters