It's turning out to be an amazing season for Irish driver Duane McKeever in Drift Masters European Championship. Today he took his second win…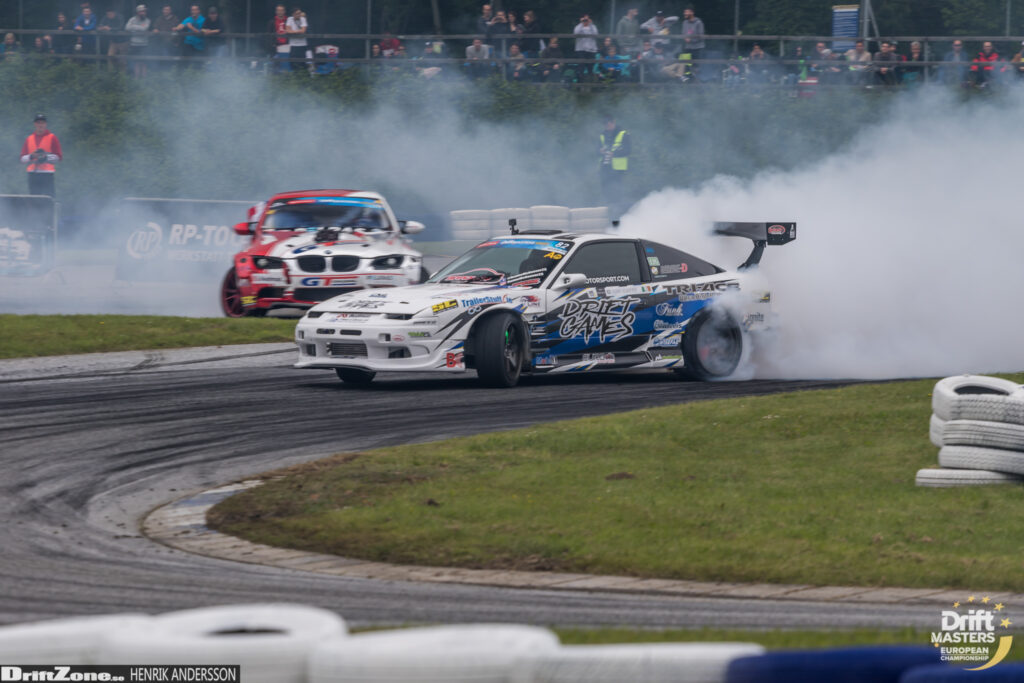 The track was Croix En Ternois in France. As you know many established drivers fell out early in the season opener in Greinbach, Austria, and was aiming for revenge in France.
Qualifying was earlier today, where James Deane was top qualifier, before Jack Shanahan, Juha Rintanen and Conor Shanahan. McKeever claimed ninth place.

The top 32 did offer a few big surprises, when expected championship competitors Tor Arne Kvia and Adam Zalewski was nocked out. Besides that the fin Juha Pöytälaakso knocked out 7th qualifier Max Miller, Ukraine.
26th in qualifying, Pöytälaakso went on to knock out higher qualified in top 16, where Enver Haskasap, Northern Cyprus, was knocked out by the flying fin.
In the great eight things started to heat up. Duane McKeever said to Red Bull TV that he was hoping to meet James Deane early in the bracket. That way he would, if he won, get a good grip on the championship. The replay of the final in Austria came in top 8, and McKeever managed once again to beat the reigning DMEC and FD USA champion and claim a spot in the final 4. The other battles in top 8 was Conor Shanahan vs Pawel Korpulinski, where Shanahan won, Jack Shanahan vs Juha Pöytälaakso, Shanahan won, and finally Juha Rintanen vs Grzegorz Hypki. Noteable is that three out of four battles went to a one more time.
In the semi finals Conor Shanahan met Duane McKeever, and young Conor had to give Duane the win, after really good driving. Jack Shanahan won against Juha Rintanen, and claimed a spot in the final.
In the battle for third place, Juha Rintanen and Conor Shanahan battled hard, and Juha took the win. In the interview Juha was happy, but said that he really had wanted that spot in the final instead.
The final was also a tough battle, and none of the drivers was going to give it away easily. But in the end it was Duane McKeever that took the win, leaving the results as below. Reservation for any unintentional errors.
Duane McKeever
Jack Shanahan
Juha Rintanen
Conor Shanahan
James Deane
Pawel Korpulinski
Grzegorz Hypki
Juha Pöytälaakso
Joe Hountondji
Enver Haskasap
Martin Richards
Matt Carter
Benediktas Cirba
Andrius Vasiliauskas
Sebastian Fontijn
Paul Smith
Max Miller
Max Heidrich
Elias Hountondji
Tor-Arne Kvia
Adam Zalewski
Daniel Brandner
Axel Francois
Benjamin Boulbes
Krzysztof Romanowski
Kevin Quin
Dawid Karkosik
Laurent Cousin
Ahmad Daham
Calin Ciortan
Roman Kolesar
Michal Reichert
Next round is Plock, Poland on the 28th and 29th of June.
Text: Christer Hägglund – DriftZone.se
Photo: Henrik Andersson – DriftZone.se (Archive pictures)