Yesterday the drivers grid for Drift Masters European Championship 2020 was revealed. Join us when we look at the contenders.
Mitch Larner – Australien
Daniel Brandner – Austria
Clemens Kauderer – Austria
Michal Reichert – Czech Republic
Marco Zakouřil – Czech Republic
Niko Maatala – Finland
Juha Rintanen – Finland
Axel Francois – France
Benjamin Boulbes – France
Jerome Vassia – France
Mevlud Meladze – Georgia
Nodo Kodua – Georgia
Elias Hountondji – Germany
Johannes Hountondji – Germany
Max Heidrich – Germany
Baydin Dmitrievich – Russia
Sebastian Fontijn – Holland
Remmo Niezen – Holland
Jack Shanahan – Ireland
Conor Shanahan – Ireland
Kevin Quinn – Ireland
Duane Mckeever – Ireland
James Deane – Ireland
Vaca Manuel – Italy
Ahmad Daham – Jordan
Kristians Burkuvs – Lithuania
Andrius Vasiliauskas – Lithuania
Benediktas Čirba – Lithuania
Enver Haskasap – Northern Cyprus
Joachim Waagaard – Norway
Tor Arne Kvia – Norway
Ørjan Nilsen – Norway
Grzegorz Hypki – Poland
Krzysztof Romanowski – Poland
Pawel Borkowski – Poland
Adam Zalewski – Poland
Pawel Korpulinski – Poland
Dawid Karkosik – Poland
Bartosz Stolarski – Poland
Calin Ciortan – Romania
Pontus Hartman – Sweden
Victor Joensuu – Sweden
Linus Joensuu – Sweden
Christian Erlandsson – Sweden
Steve Biagioni – United Kingdom
Martin Richards – United Kingdom
Oliver Evans – United Kingdom
Dmitriy Illyuk – Ukraine
Max Miller – Ukraine
Sweden will have four participants, when Swedish champion Linus Joensuu and his brother, SDC runner up and junior champion Victor Joenuss, as well as Pontus Hartman will join Christian Erlandsson in the effort to take on the best drifters in Europe.

Former Swedish champion, competing for Poland, Pawel Korpulinski, will continue his strive for the championship too. Pawel was seventh in 2018, and 12th in 2019, without participating in the final round.
The Norwegian Tor Arne Kvia continues also. He was 10th in 2018, after being second runner up in the premiere at Plock stadium, and fourth in 2019. He will be joined by to countrymen this season, when Joachim Waagaard and Ørjan Nilsen take their chanses in the European series.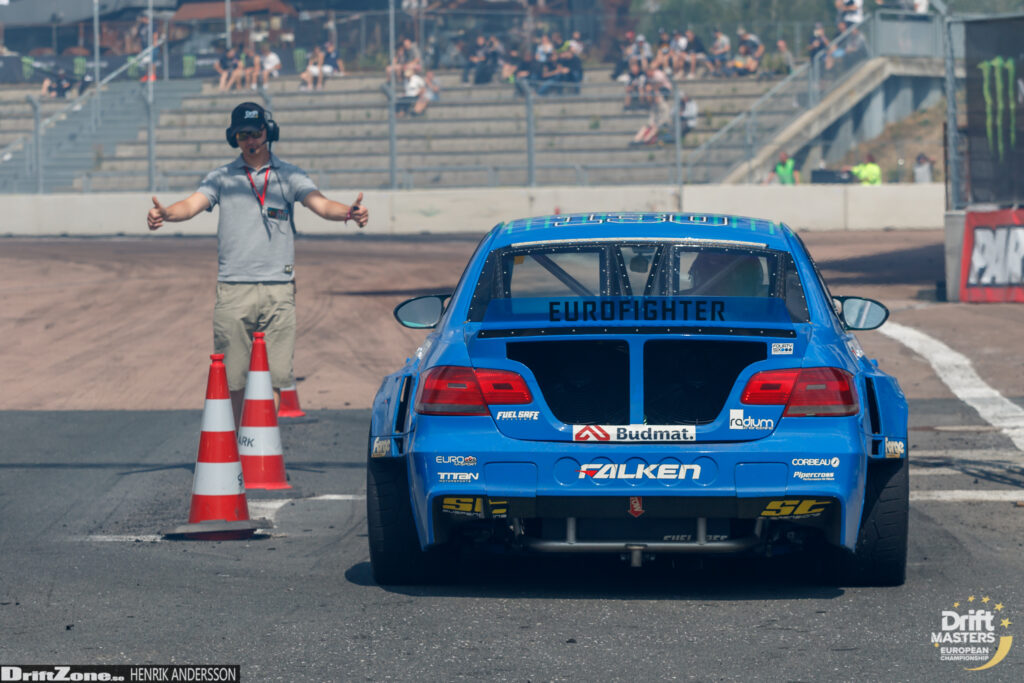 Who will lead the race for the top spots? I think that James Deane still will be a strong contender for the top spot. He is a back to back champion in DMEC, three times champion of Formula Drift and has won almost everything there is to win. I think his countrymen, brothers Jack and Conor Shanahan will be there also, after the 2019 season which was partly disturbed by small errors on their newly built cars. Duane McKeever started the 2019 season in the best way, and he is back wanting revenge.
From Poland we will see Grzegorz Hypki in a new car, a Nissan S15 built by Pawel Korpulinski and Mapadama Motorsport. How will this affect Hypki? His BMW E30 is very special car, we know that, and how till he adapt to a new car, built according to modern technical regulations. Adam Zalewski made that transfer last year, and went from an old E30 to a GT86. It was so new that the shakedown was made on the evening before the premiere in Greinbach, Austria.
Remember to follow DriftZone for more news about DMEC 2020.
Text: Christer Hägglund – DriftZone.se
Photo: Dennis Flink, Stefan Lindgren, Henrik Andersson – DriftZone.se