Christian Erlandsson was one of the drivers who drove with the Swedish flag I Drift Masters 2018. As an addition to this he also made a full season In SDC, the Swedish Drift Championship. This is how he summarizes the impressions from last season.
With bad luck and extremely tight margins, he missed the qualifications in a few competitions, but in the end Christian hit the right spot and managed to do well in some of the races. His fourth place in the qualifications in Hockenheim and the tenth place that followed was for him the biggest accomplishment in DMEC 2018.
You took part in two series last year, both SDC and DMEC. We wil begin talking about SDC, where you placed 11, 15, 21 och 15, how would you summarize these four events?

– This is correct, in 2018 we took part in two series, plus some other event such as Påsksladden and Discodans. It was a tough year, but when you are in it you have to follow through, is my opition. And I have learned a lot, for example to only participate in one series, it easily gets too intense otherwise. In SDC we had a tough year.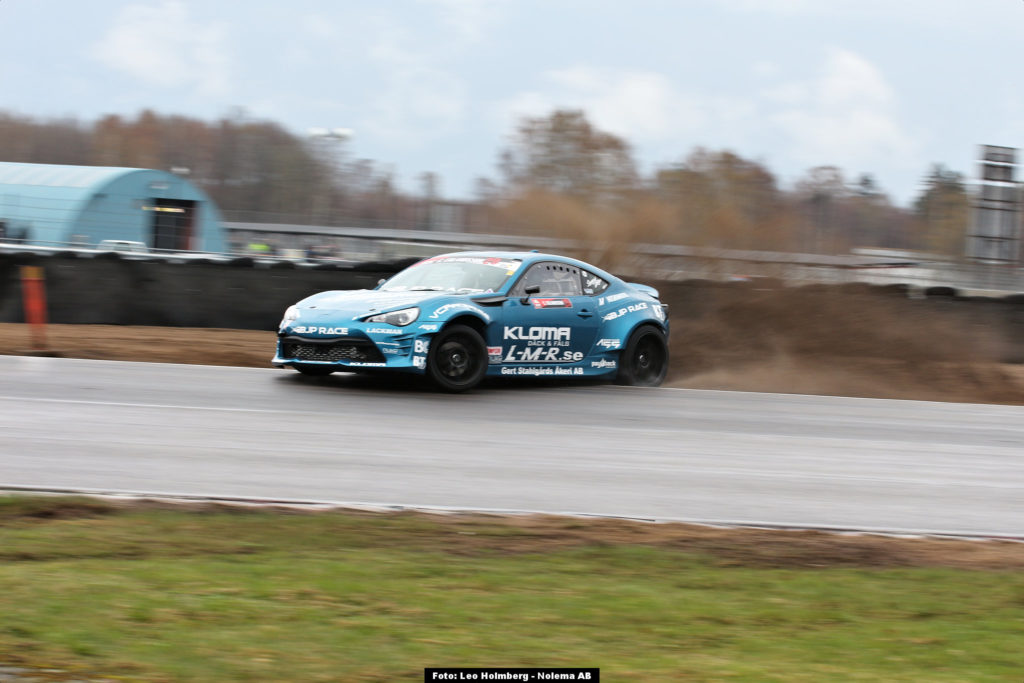 Mantorp Park, Dotz
At Mantorp I qualified at second place (me and one other driver) but when I got to top 16 it started to rain so I slid off the track in the first corner, and Wikberg took the win.
Arn City Drift
Arn was a fun track, it was technical and fast. Right before the qualifications we placed the splinter guard over the drive shift and a cable accidently jumped out, so we could not make it to the starting line in the first qualification run. We managed to make it through to top 16 in spite of a so-so run in qual two, but then I got to go up against Pawel Korpulinski and it was a tough race. We were separated by only 0,5p. But congrats to Pawel who ended up in second place!
GTR Motorpark
SDC round three at Gröndal (GTR Motorpark) was run the opposite way than what we are used to. It really didn't suit my gear ratio at all. Second gear was to short/slow, and the third gear was way to long/fast. There was a really big difference in how you were able to drive regarding to what direction you are driving. The "normal" way/direction, the way we are used to drive, makes it possible to attack in a harder way. I don't think I even qualified, but I know why and it is something we are working on to 2019.
Sundsvall Raceway
SDC round 4, and final, out in the wilderness.
It was a tight startingline, high qualification-points all around. In top 16 I got to meet Victor Joensuu. Unfortunately I got lost in hos smoke and got a tiny dirtdrop which led me to lose a lot of points, but finished with a good lead. However, Victor went through to top 8.
And finally, I have to give SBF (Svenska bilsportförbundet, Swedish carassociation, authors' remark) credit for a very nice banquette later that night!
The great adventure was obviously DMEC, where you participated in all sex rounds. With tough opponents, you placed in three of the six rounds. How did it feel to compete at this level?
– Exactly, DMEC was "the big deal" in 2018. I'm very happy we were able to complete the whole season with all the travel and a tight schedule. It's almost amazing that made it to start in all six rounds when I work fulltime at home and have a family. The beginning in DMEC was tough, mostly since the skill-level is so extremely high, and I ended up right outside top 32 with only a few points up. This gave me just 1 point to the series total, which was a bit disappointing. But when we went to Riga, I was accompanied by Alexander Granlund and his spotter Christoffer Åslev, who made an incredible job throughout the season. To have such a meticulous spotter has really helped and taught me much as a driver. This was also when I got the feel of how DMEC worked as the biggest series in Europe.
One highlight for all of us following you, and for you as well I presume, was at Hockenheim where you qualified as number four. Tell us about it.
– Hockenheim was indeed the highlight in 2018. The track was very fast in the beginning and crossed into a technical one. But it felt really good, from the first practice and on. Everything went smoothly, no major problems with the car. Kloma changed tires and filled gas so the car was on top. Åslev gave me good help from his spotter-position, and my gear ratio fitted perfectly.
-After the first qualification, it really felt good. There was a photographer who showed me nine fingers and I thought, "Wowo, that good?". And the second run was good aswell, with 89 points. So I qualified as number four on points. I think Pawel Korpulinski won the qualifying with 92 or 93 points.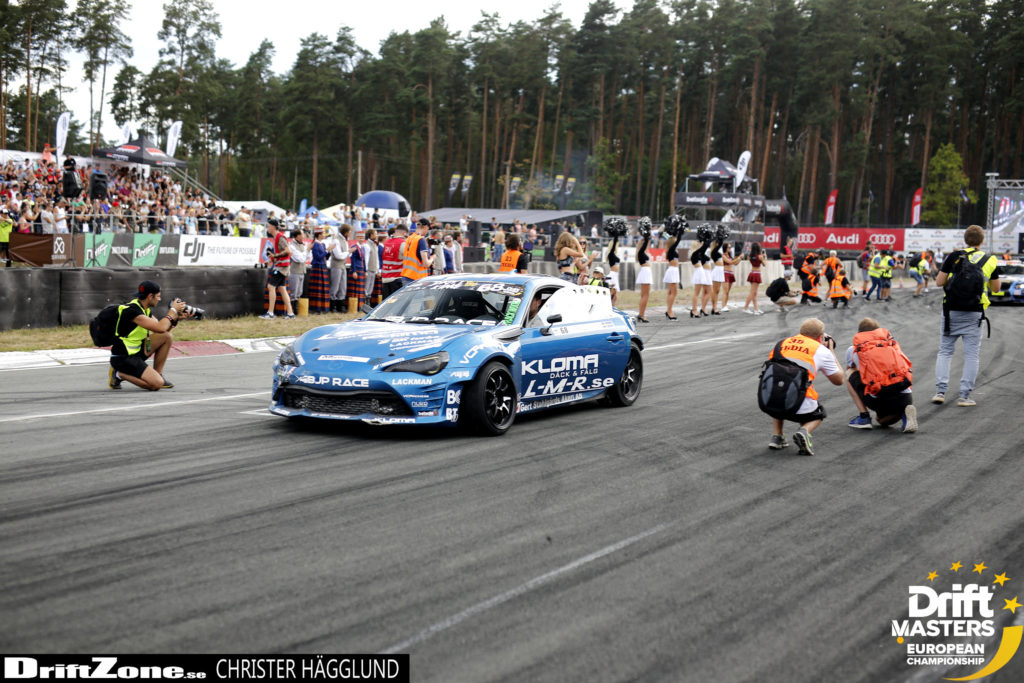 Unfortunately, the competition ended for you in top 16 after an incident. What happened?

– In top 32, "Baggsy" hit me right in the side, and I went through to top 16. In that battle I slid off the track in the second zone, and I was not the only one who had been there during the weekend. It was quite a trench, so in some way it felt like half of my car just exploded down. I made a small dirtdrop, if the track had been alright nothing would have happened. But the car was okey, though we had to take it home and make some touch-ups.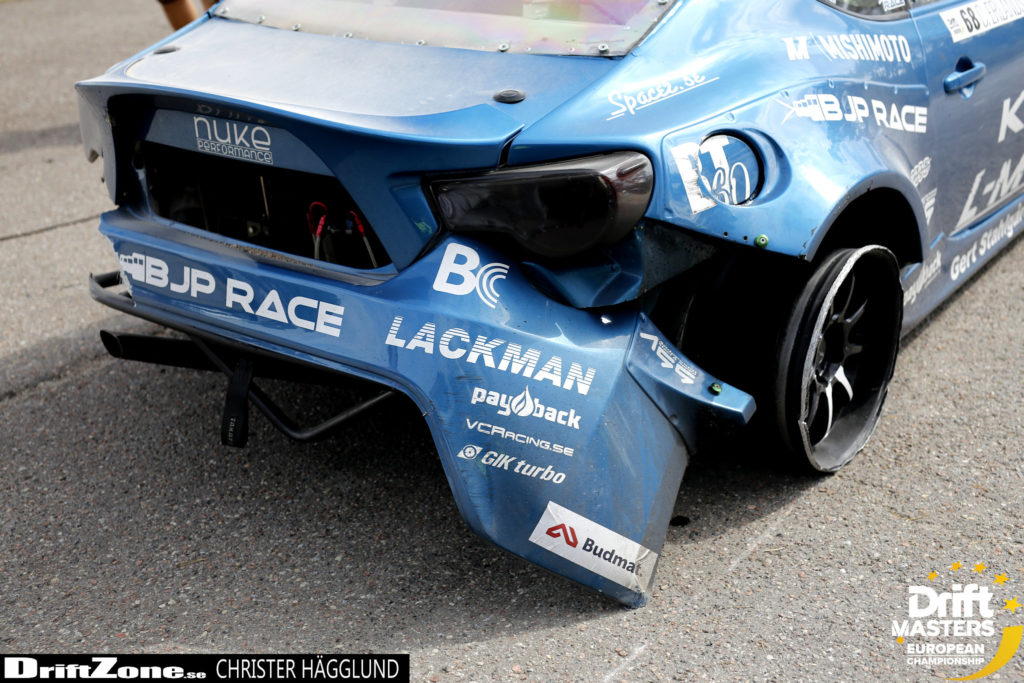 The car took quite a beating a couple of times last season, in Riga and Torun among others. Were there any serious damages or were there mainly cosmetic ones?

– We used up quite a bit of fiberglass during the summer. In Riga there was "only" a Wisefab tie rod, and a steering rack that broke. In Torun, there wasn't many drivers who didn't break anything. That track was awful. I got caught in the rubbermat covering the tires, which the car is supposed to "glide" against instead of hitting the tires. But my bash hooked on to the rubbermat and pulled it out on the track, so when I transitioned into the last corner I saw the mat through the smoke. The car didn't steer the way it was supposed to, so I hit the pile of tires. Luckily I had such a great mechanic in Henke Erlandsson, so with his help and the help from my other team members, I got the car back on the track again.
Are there any upgrades to be done to the car during the winter?

– The main update will be a PDM-system from MoTec, so the thing that happened at SDC no 2, when the cable jumped out, won't happen again. There will also be a new rear suspension with a RTS Winters differential, so that I can change the gear ratio in 20 minutes. I've got a 4-sequented gearbox which makes me very limited when I haven't got a gear that fits great. And hopefully I will get better angles to my drive shaft.
Looking at your DMEC-investment from the outside, one can't help noticing it was significantly smaller seeing to the financial side of it, than some of your competitors. You had a small team following you, a van and a car trailer etcetera. How could you make it work so well?

– I think it worked so well just because we didn't have the biggest trailer, costing 4-5 times more in ferry fee. We managed very well with our van and car trailer. We strayed at hotels for every event. Some of the hotels were awesome but the standard in Ireland was not quite so high. However, travelling from Sweden to competitions throughout Europe, you cannot avoid the ferry transports, and there are a few ferry rides in one season. They are expensive. But if you have dreams, or a goal, you fight even harder to make it work, and if you work hard and are surrounded by a great team, an understanding family and good sponsors, you can make it work.
Did you ever feel that the limited resourced put a halt to your success?

– No, I don't think the amount of many you put into transportation is what makes you successful.
Looking forward into 2019, DMEC has now released its schedule. There are six races this year, Austria, France, Poland, Latvia, Germany and Ireland. Two of the races dates clashes with dates of the SDC. Have you already decided what series you are going to participate in in 2019?

– Yes, there are a few new countries and tracks in DMEC 2019. What I can tell you is that I will only be driving one series 2019.
Could you tell us which one that might be?

– I will probably make it official in the middle of January or February, but I don't think it's that hard to figure out.
Is there anyone you would like to say thanks to, who's helped you with your investments in SDC and DMEC?

– Yes I would love to say thanks to my wonderful girlfriend, and mother of my children, Theres. My mother and father, who has helped me with everything from watching our kids when Theres is at work, to picking up fiberglass and spare parts.

In addition to them, I have had an amazing team who's been there for me the entire season, without them I could not have done all the things we've experienced this summer; Anders "Kloma" Gustavsson, Henrik Erlandsson, Alex Gjelten, Anders Olsson, Mrs Kloma, Robin Pajen Svensson and my spotter Christoffer Åslev, you have all done an amazing job. You really are the best!

And last but not least – my sponsors. Without them I never would have been able to build the car I have today, or even make this summer possible.
Mishimoto
BC Brian Crower
Bjp Race
Kloma
VCRacing
Gikturbo
L-M-R
Payback Lubricants
Nuke Performance
Gert Stahlgårds Åkeri Ab
Andersson Steel And Speed
Lackman
Dahlback Racing
And also – a big thanks to my employer Gert Stahlgårds Åkeri AB. Thank you all for an amazing 2018. See you out on the tracks in 2019!
And with that we leave Christian to continue his Christmas- and New Year's celebrations together with his loved ones. We can't wait to see what 2019 brings for him. In 2018, it felt a bit like his nerves got the best of him the first half of the season, but after that he really got the chance to stand up to the elite European drivers, and show them that he was there to stay.
Text: Christer Hägglund – DriftZone.se
Foto: Leo Holmberg, Christer Hägglund – DriftZone.se