Pawel Korpulinski had a very good and productive year 2018, he fulfilled one of his highly set goals. Pawel with his team was aiming for top 8 in Drift Masters European Championships. Pawel Korpulinski managed to take a good seventh place in the standings, among the best of European Drifters. But what are the plans for 2019?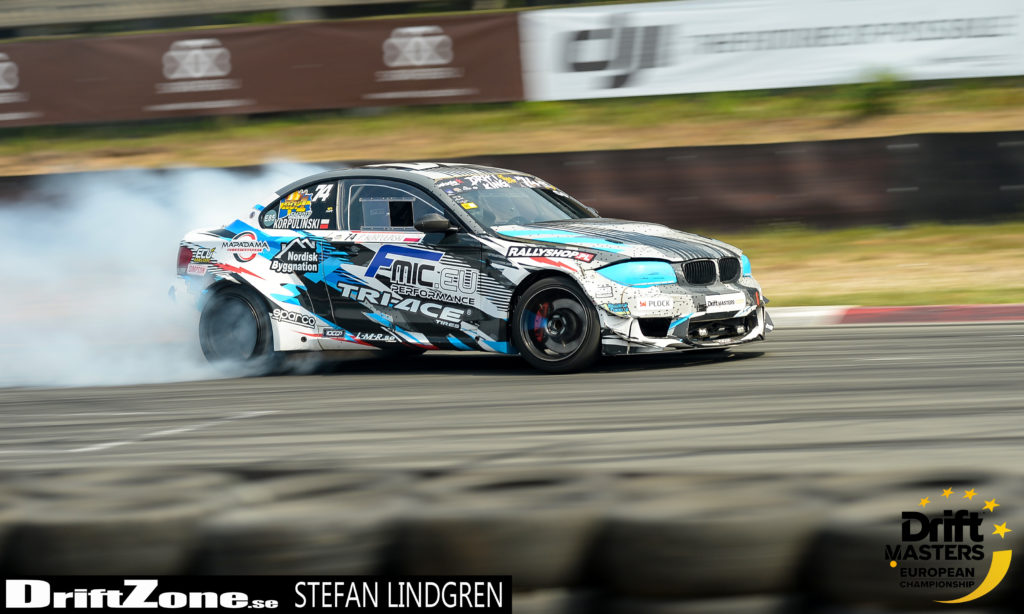 We came in contact with Pawel and asked some questions on season 2019?

First up Pawel, how do you look at your results for 2018?

– Before the start of season 2018, we put up one goal – be inside top 8 in DMEC standings. Drift Masters European Championship is a really hard serie, a true European Championship that many sees tougher than Formula Drift Pro and that the skills needed is on par with Formula D. We did reach our goal and finished seventh overall. To be among the seven best drifting drivers in europe feels great, we are more than happy with this result and the teams effort, but at the same time.
-For 2019 we will set the bar higher, as I always say you can not be to pleased with the results, always be hungry for better. If you aim higher and push yourself, the you will become better and the results will also be better. If we look at Swedish Drift Championship – it was close between me and Johan during the entire season, in the finals Johan was better and he won the Championship (Congratulations again Johan). To win SDC 2017, and be second overall in 2018, feels very good. It shows that I can be up there in the top and also be concistent – that is something I feel is one of the most important things In drifting – "consistency is the key".

A very good year for you and your team, what happens with the car during this winter? any big changes?

– Our racecar will not be changed much, we did big changed before 2018. We will enhance som aspects, we are working on improving more grip and speed at the moment, that is our main focus. Thanks to my team that takes care of the car properly, we did not have any major issues during 2018. Therefore I will stick with the same setup this season, I know it´s reliable and competitive.
Yes if you like the current setup, then it´s best to stick with it. What series/competitions will you run 2019?

– Season will kick off with "Påsksladden" during easter. The only serie we are running (what we know now) is Drift Masters European Championship, I´m one of 45 drivers that was invited to drive this year. Other competitions are still not finished.
So big focus on DMEC for Pawel, which goals have you put up for 2019?

– Goal for this season is to continue to develop myself and the car as much as possible, collect more experience and have fun.
We guess that the more higher goals comes when season starts, so as final question, which tracks do you like most?

– Favourite tracks – tough question, among the swedish tracks I like Sturup Raceway. If we are talking about European tracks, the I like the legendary Bikernieki Race Track i Riga and Autodrom Pomorze in Polen.
We thank Pawel for his answers and we wish him all the luck during season 2019 in DMEC. We will keep in touch with Pawel to see how everything turns out.
Text: Henrik Andersson, Driftzone
Photo: Stefan Lindgren, Driftzone