The importance of photographers at an event is the difference between being seen or not being seen. How the cars are photographed lies in the way of the photographers style and opportunity to photograph. They can´t make the cars throw down more smoke or drive fluently for those nice panning shots.

One of my favorite drifting photographer is Valters Boze. He has the ability to take a wide variations of shots and shows the commitment and preconditions before, during and after the events that he works at.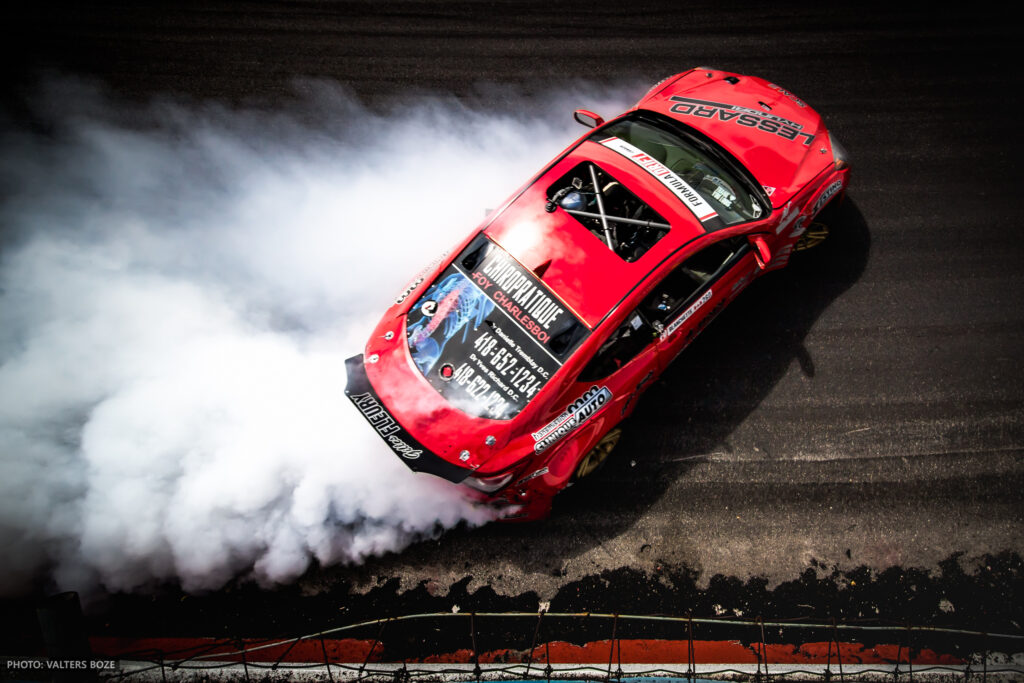 Valters was born and raised in the capital of Latvia. After 30 years in Riga he decided to buy a one way ticket to Miami. After arriving to Miami he started to work as an event photographer and still does.


If you're into drifting, then you might have seen some of his photos from Formula D events. They are widely spread all over the internet.

He has a dog named Safari and as you read this Valters is turning his van into a motorhome so he can bring Safari with him on his Formula D tour.

DriftZone contacted Valters to get an insight of how its to photograph at Formula D and what his experiences are.

DriftZone:
-What are your goals with your photography?

Valters Boze:
-This is very tough question. I rarely have goals. I have changed professions and hobbies many times. I don't treat photography as work or career so I don't really have set goals or future plans, I simply go and shoot. I used to organize car events back in Latvia. When I moved to USA I wanted to do the same but realized it is not so easy, also the culture is very different so I had doubts I would have the mental satisfaction of organizing events for a very different culture. But I have always been around cars so photography lets me enjoy being around cars and being around people that love cars.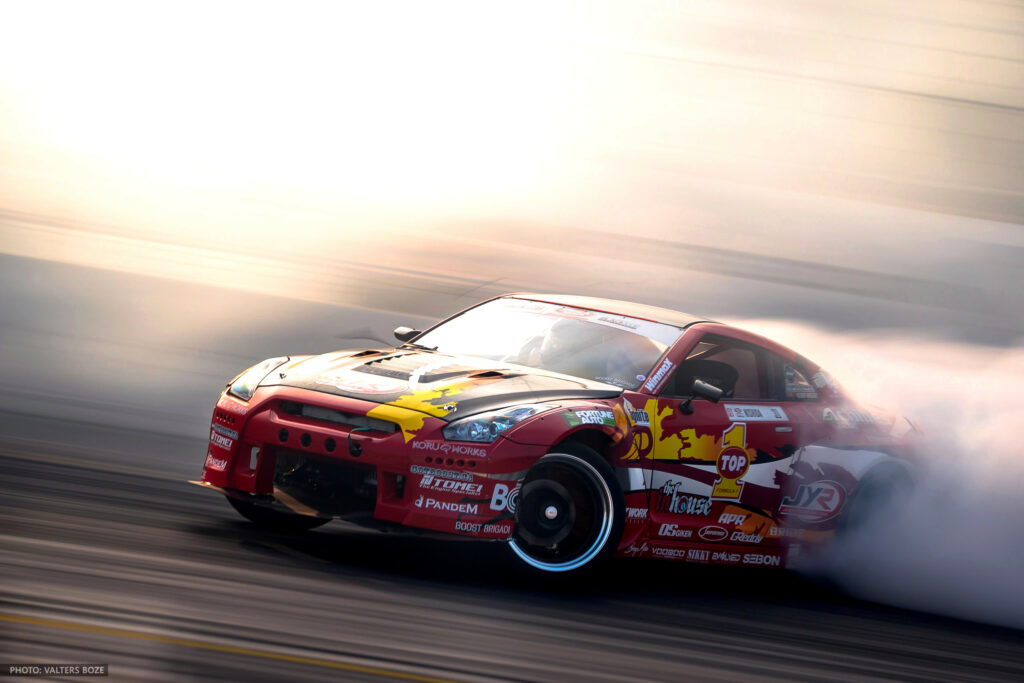 I started shooting just five years ago. I started with the local culture – shooting exotic cars and models like everyone else but it got boring really fast. Now I have been shooting Formula Drift series for five seasons and it has become my "full time" hobby/work. My biggest satisfaction always was that I worked for people who asked me to work for them, I never asked anyone. But in 2019 I sent offers to a few teams because a lot changed in FD rules and made it very expensive for us to shoot. I am trying to become better than I was yesterday, e.g. past year, there are still automotive photographers whose work and creativity I admire, I still have a lot to learn. At some point in future I want to return to Latvia and shoot rally events, but I don't have any plans set in stone.

DriftZone:
-When you are at a drifting event, what do you look for and how do you prepare before the event?

Valters Boze:
-Action photo is nothing without a nice background and nice composition. If it's a track I haven't been to I check out the scenery. I search for photos from the track online that other people have shot to get an idea what I can work with. I check the time of the race and where the sun is during the day and evening. If I have shot there before I just look up my old galleries to see which photos were nice and could be repeated, I check what focal length I used the most to assemble my gear with proper lenses.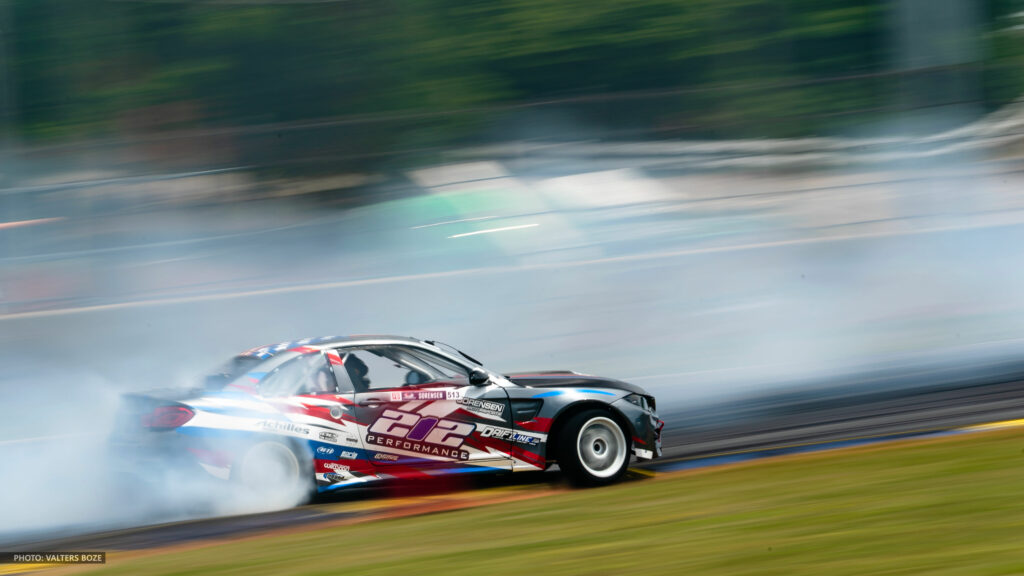 I try to improvise a lot and stay away from most crowded media spots as possible because everyone can pick up a 70-200 and do a sharp shot, then there are hundreds of same photos online that look exactly the same, I really don't want those, I am not a reporter. However there has to be a balance because I have many clients that are expecting photos and if I spend too much time improvising I might not get any shots at all. In past seasons it was easier because I could work with remote cameras to get composited classic shots while improvising at the same time in distance. Unfortunately FormulaD media crew decided to ban me from using remote cameras. Now I try to get classic shots first and then go improvise.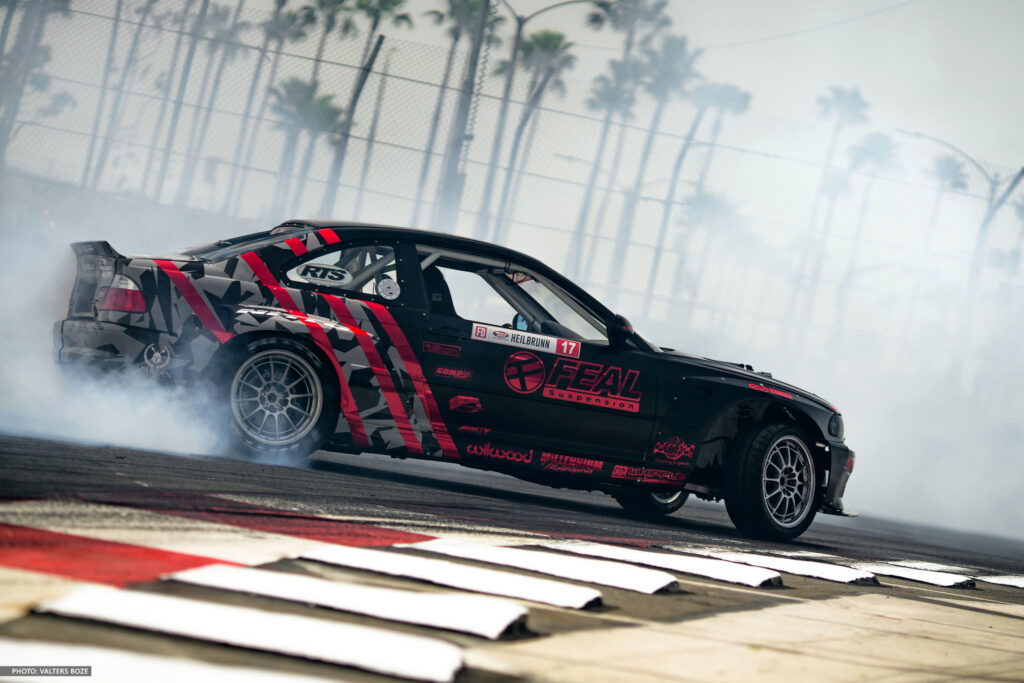 DriftZone:
-Do you get some education at the track of how to act on the event etc?

Valters Boze:
-The tracks repeat every year. We are forced to go to media meetings, but honestly once you've been there couple times there is nothing new. After couple seasons you know what you can do and what you shouldn't. There are rules you can break to get a warning and there are things self-explanatory that you should not do, its the new guys that get in trouble. I used to get in trouble a lot in the first years.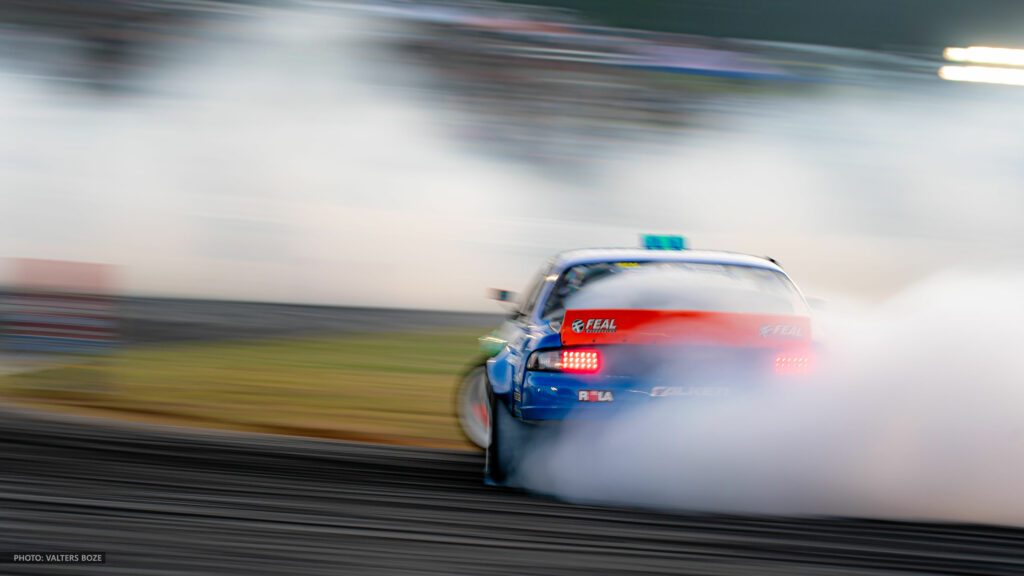 DriftZone:
-How much do you communicate with the other photographers?

Valters Boze:
-Not a lot. One of my best friends and best photographers, David Karey, quit this year due to new heavy rules towards us "non official" media. He was the guy I always was shooting together and shittalk about everything. He was the first guy to talk to me in my first round in FD Texas 2014 and he's my friend ever since. Also this year the latvian team HGK left FD. Now its boring. I might talk to someone once in a while, but mostly I just shoot and edit photos on phone and can't wait to get off track to have a beer with the drivers. Most media in Formula D has become a pool of snakes that try to outperform each other, unfortunately not in photography skills but in social media exposure. I rather talk to the drivers since we do not compete and honestly I'm more interested in car people than photography crowd. There are very few cool guys in media I enjoy talking to, mostly video guys, since we don't have the competition barrier we can talk about the different technology in gear we use and just life stuff.


DriftZone:
What's your favorite drift event?

Valters Boze:
Formula Drift Canada. In 2017 there was a round in Montreal, Canada at Autodrome Saint-Eustache. The track is great, scenery is amazing and the crowd was something special. I almost felt like back in Europe. There really is a big difference between european and american crowd, I think canadians are more like europeans, much more joyful and friendly. I actually work for 2 canadian teams in Formula Drift and they are so different, even with the language barrier we still hang out late, and their personal feedback on my photos is something special that I don't get from other teams. Unfortunately the track was sold and closed, but I will always remember the experience and I took quite a few of my personal favorite photos in that event. There was nothing particular, the whole event was really great.

We thank Valters for his time and wish him best of luck in the rest of the season.

Don't forget to check out Valters photos on Instagram: @valtersboze
Text: Björn Billsten – DriftZone.se
Photos: Valters Boze