After a near perfect second qualifying run, Matt Field claimed the spot as top qualifier in the Formula Drift season opening round in Long Beach.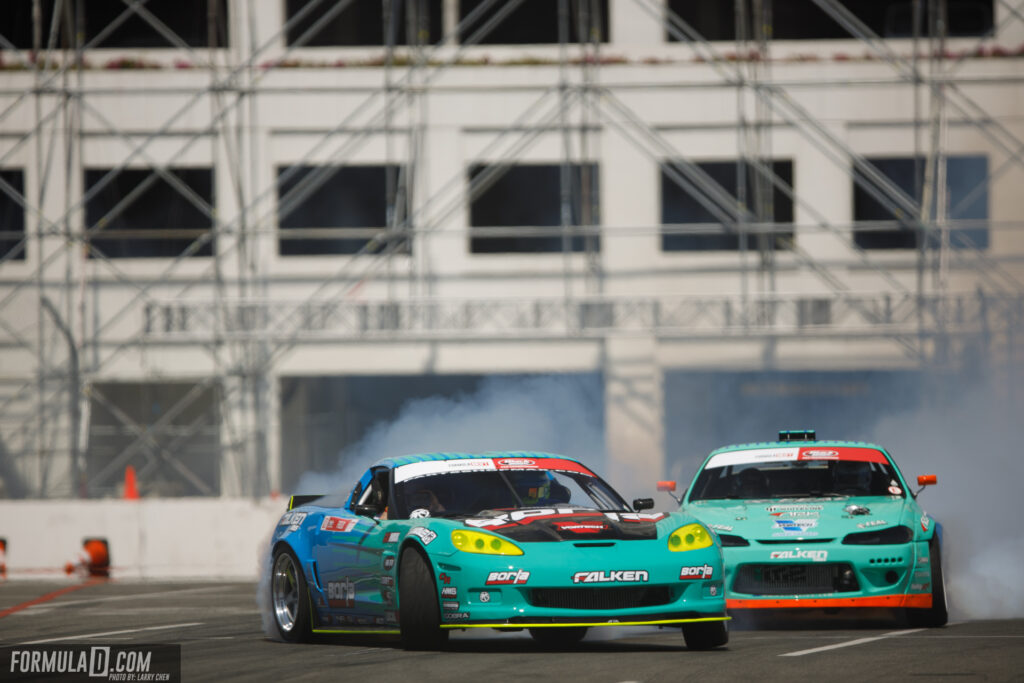 In run 1 Field managed to get 93 points, but in the stiff competition that was just enough to reach top ten. In the second run, Field gathered his full attention and managed to take his Corvette through a 99 point run. He managed to fill all zones and reach the inner clips, and the judges rewarded him with
Line 30/30 points
Angle 30/30 points
Style
Fluidity 19/20 points
Commitment 20/20 points
Total 99/100 points

Great job by Field and he will for sure be interesting to see in elimination. Second was two time champion James Deane with a 98 in his first run and a 97 in his second.
For our Scandinavian star Fredric Aasbø qualifying was not what he would have wanted and he ended up in 10th position.

This years judging is a little differrent from last years, since the points for line and angle are divided into a number of zones. In Long Beach there are five sectors, where sector 1 is the initiation, curve 1 and Touch and Go 1, sector 2 is Outside Zone 1 and the beginning of curve 2. Sector 3 is the rest of curve 2 and Outside Zone 2, sector 4 is Touch & Go 2, and the final sector 5 is Inside Clip 1 and the finish.
Points are given according to this:
(Sector / Line / Angle)
Sector 1 6 / 6
Sector 2 7 / 7
Sector 3 7 / 7
Sector 4 5 / 5
Sector 5 5 / 5
Style point, in total 40, consists of Fluidity 20 and Commitment 20.
Qualifying result, FD rd 1 Long Beach
Matt Field
James Deane
Piotr Wiecek
Dai Yoshihara
Odi Bakchis
Forrest Wang
Ryan Tuerck
Chris Forsberg
Chelsea DeNofa
Fredric Aasbo
Vaoughn Gittin Jr
Michael Essa
Justin Pawlak
Alex Heilbrunn
Jhonnattan Castro
Matt Coffman
Ken Gushi
Dean Kearney
Travis Reeder
Alec Hohnadell
Mitch Larner
Kazuya Taguchi
Dan Burkett
Patrick Goodin
Dirk Stratton
Ryan Litteral
Tyler Hull
Federico Sceriffo
Sebastien Gauthier
Austin Meeks
Kyle Mohan
Jeff Jones
Joao Barion
Manuel Vacca
Dylan Hughes
Text: Christer Hägglund – DriftZone.se
Photos: Larry Chen – FormulaD
Grafics: Formula Drift