After a good portion of drama with cars going in to the tire wall, engine failures and clashes it was finally Aurimas Odi Bakchis that took the win in the 2019 season opener.
With a well filled qualifying with 35 cars, this time the 32 car bracket was filled in all positions. That hasn't happened in a while in Formula Drift. Unfortuneatly Ryan Tuerck went off into the tire wall in tha last practise and did not make it to the start.
The no 1 qualifier Matt Field started off strong, but three time champion Chris Forsberg managed to win in the great 8, putting a stop to Fields success in this round. Second qualifier James Deane had some car troubles, with a nitros system not working well which made the car really hard to drive. In one battle, Deane told Laurette Nichol in the livestream, he let go for a transition and the car went on in the same speed.

These made it to the final 4: Chris Forsberg vs Odi Bakchis, and Fredric Aasbø vs Forrest Wang in the other. Aasbø and Wang started, and being better qualified Wang had the lead in the first run. Aasbø made a good chase, after a stable and good lead run by Wang. But that was the end of the luck this time for the Norwegian Hammer. He started with calling his five minute competition timeout, just to see that a part of a spark plug hade come off, and they found it in the turbo housing. And the end of the first round for the Norwegian star.
In the other batte there were no misshaps, and after two good runs the judges called Odi the winner and sent him onto the final.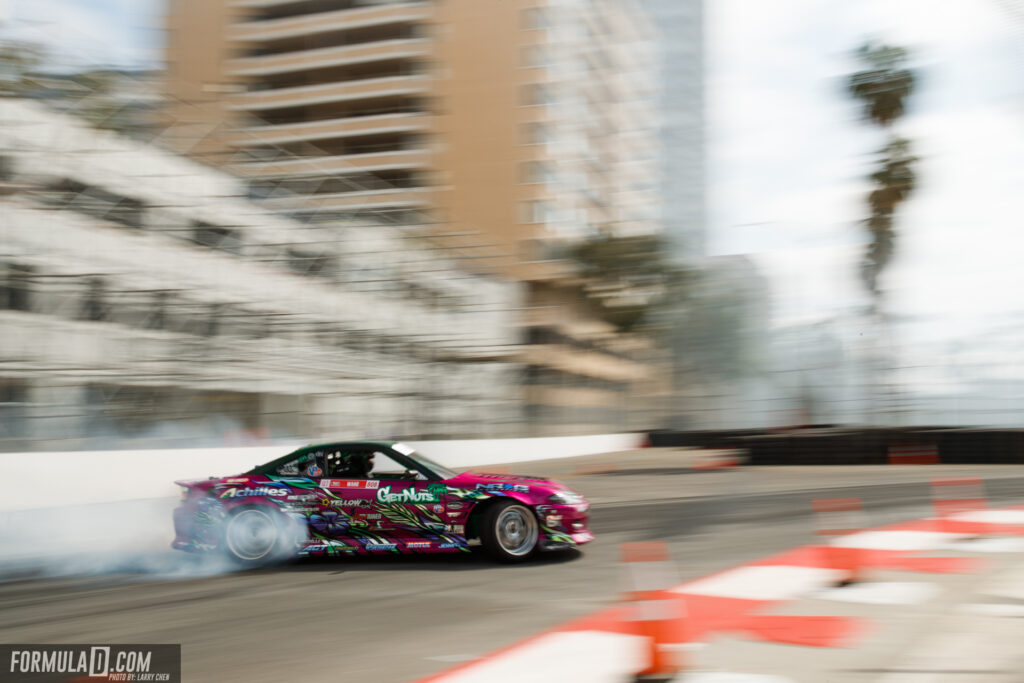 In the final between Odi Bakchis and Forrest Wang, Odi started in lead position. A stable and good lead run, where Wang was really close in the beginning. At outer zone 1 he slipped behind and didn't manage to work his way up again, and by the last touch and go he was behind Bakchis rather than next to him. In Wangs lead Bakchis had some trouble getting it right throug turn 1, but caught up and was in better proximity througout the run.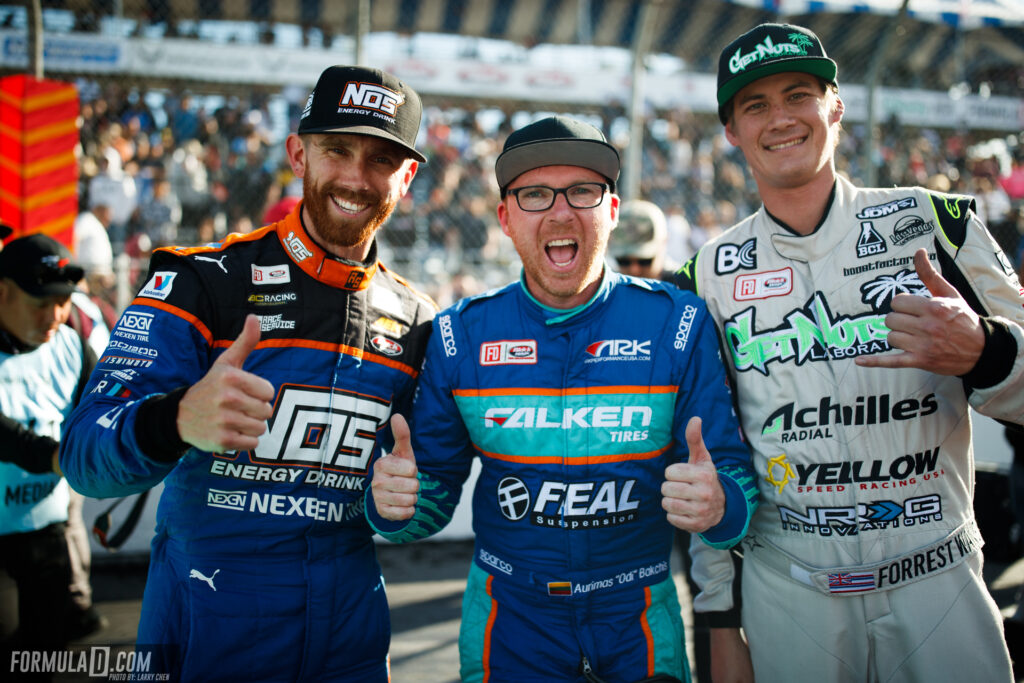 The victory to the Lithuanian Aurimas Bakchis, known to all as Odi and living in the US since many years, but still competing for his native Lithuania.
Results:
1. Aurimas "Odi" Bakchis
2. Forrest Wang
3. Chris Forsberg
4. Fredric Aasbø
Next weekend there is an inviational in Long Beach, and the next round in Formula Drift is in Orlando April 25th-27th.
Text: Christer Hägglund – DriftZone.se
Foto: Larry Chen – FormulaD