The D1NZ championship round 3 was held at Hampdon Downs Motorsport Park.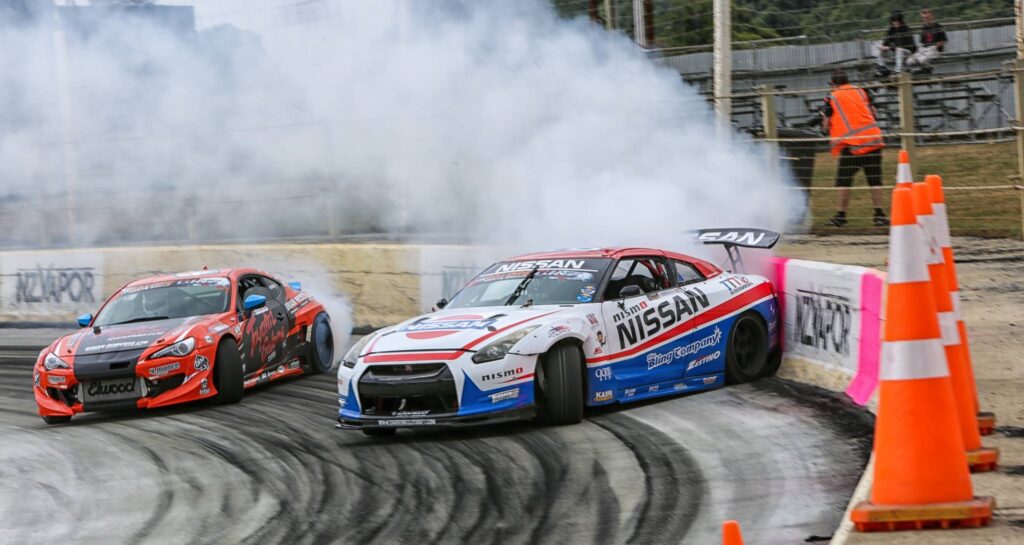 In the top 4 battle between Matty Hill in the Nissan S15 and Jordy Cole in the Mazda FC RX-7, a collision took some time to settle and demanded a five minute break. When the second run finally was run, Matty Hill won with a unanimous decision and took the spot in the finals.
In the second top 4 battle, between Darren Kelly in the Nissan R35 GTR and Daynom Templeman in the BMW E46, both drivers made mistakes in their chase runs. Templeman dirt dropped in the second section of the track and Kelly straightened in the very same section. This led the tree judges, Brendan Duncker, Mackie and Pole, to call for a One More Time.
The OMT had a discussion weather Templeman straightened in his lead or not. The judges deamed Darren Kelly the winner 2-1, thanks to a good chase with good proximity.
In the battle for third, Jordy Cole and Daynom Templeman battled, and after a promising start both cars went off in Jordy Coles lead run. In Templemans lead both drivers stayed on the track and made a good run. The judges unanimously deamed in favour of Templeman.
In the Pro final between Daren Kelly and Matty Hill, Darren Kelly made a really good lead run, with Hill just behind him. When Hill took the lead, Kelly managed better to link section one and two, and had good proximity, but wasn't able to stay on Hills door throughout the section.
Results PRO round 3
Darren Kelly
Matty Hill
Daynom Templeman
Jordy Cole
Results PRO-SPORT round 3

Jordan Joyce
Aaron Hyatt
Taylor James
Next round will be on March 30th – 31st at Pukekohe Park.
Text: Christer Hägglund – DriftZone.se
Photo: Danny Wood – D1NZ.com